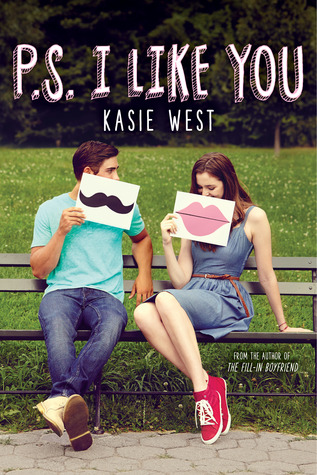 Title: P.S. I Like You
Author: Kasie West
Publication Date: July 26th, 2016
Format: Ebook
Genres & Themes: Young Adult, Contemporary, Romance
Blurb:
Signed, sealed, delivered…
While spacing out in chemistry class, Lily scribbles some of her favorite song lyrics onto her desk. The next day, she finds that someone has continued the lyrics on the desk and added a message to her. Intrigue!
Soon, Lily and her anonymous pen pal are exchanging full-on letters—sharing secrets, recommending bands, and opening up to each other. Lily realizes she's kind of falling for this letter writer. Only, who is he? As Lily attempts to unravel the mystery and juggle school, friends, crushes, and her crazy family, she discovers that matters of the heart can't always be spelled out…
---
Rating:
---
Review:
After finishing this book: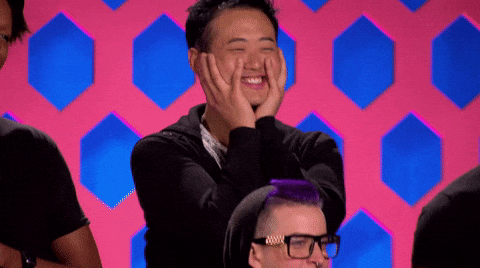 So, Lily hates chemistry but loves writing songs even though she has never actually finished writing a full song. So during chemistry period, she spends the boring time not listening to the lecture but doodling or writing lyrics on her notebook. Her teacher then bans her from bringing the notebook in class so she writes the lyrics of her favourite song on her desk. Next day comes and she enters the chemistry class and looks at her desk to realise that someone has written down the next line of the song – a song which isn't popular at all – so that's how their cute conversation starts. They continue their conversation through letters but Lily has no idea who the anonymous "pen pal" is. 
I MEAN HOW CUTE IS THAT??? AND BOTH HAVE DEEP AND CUTE CONVERSATION AND HE'S CARING, CONSIDERATE AND KIND…. and of course, fictional.
*cries for a million years*
This book is so cute, fluffy and adorable. I was smiling like an idiot the whole time. And it honestly shouldn't be a surprise because we're talking about a Kasie West book, duh!
I was more excited than Lily to read the reply from the anonymous pen pal. I would even read them more than once because it was so CUTE!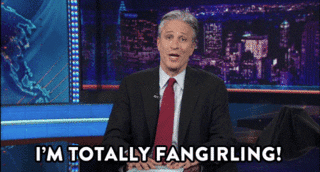 The suspense is that we don't know who the anonymous pen pal is. However, this book isn't unpredictable because I knew what was happening or gonna happen. Even who the pen pal was. But it was so cute and adorable that I didn't mind any of that. That's just Kasie West's style. She writes the cutest books with the sweetest romance. And the romance in this book was swoon-worthy.
And that revelation kinda part..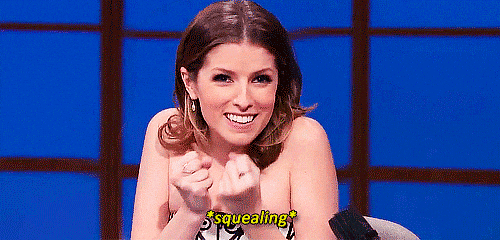 Do you know that two of her books are coming out next year? How does this woman do that? She's so amazingly talented!
 I also love Lily's family. I love that her family is present and is also a part of her story. Her brothers are so adorable! They're so energetic. I wanna write some more things but they will be a little spoiler-ish so I won't.
Anyway, I was telling my friend the other day about this book because we both hate chemistry and we both spend our time doodling on our notebook, and then I said to her, "Imagine something like this happening to us!" And then we both daydreamed for 5 minutes before the thought that a) even if it happens, we're gonna freak out so much that we won't write anything back b) WE'RE IN ALL GIRLS SCHOOL! pulled us out of it.
So this is the reason why we read books since our love lives don't exist! 😂
I have been waiting to read this book for a long time and I'm so happy that it didn't disappoint me at all. In fact, it's now my most favourite contemporary book by Kasie West. So I obviously recommend it to everyone. I also forced my best friend to read it because forcing people to read my favourite books is my speciality!
---
About the author:
I write YA. I eat Junior Mints. Sometimes I go crazy and do both at the same time. My novels, published through Harper Teen are PIVOT POINT and its sequel SPLIT SECOND. And my contemporary novels: THE DISTANCE BETWEEN US, ON THE FENCE, and THE FILL-IN BOYFRIEND. My agent is the talented and funny Michelle Wolfson.
Goodreads | Amazon | Barnes and Nobles
---
 Twitter | Instagram | Goodreads