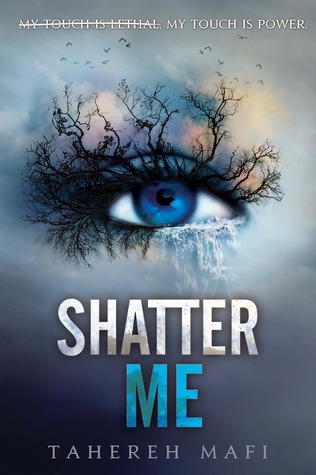 Title: Shatter Me (Shatter Me #1)
Author: Tahereh Mafi
Publication Date: October 2nd, 2012
Format: Paperback
Genres & Themes: Young Adult, Science Fiction, Dystopia, Romance, Fantasy

Blurb:
Juliette hasn't touched anyone in exactly 264 days.
The last time she did, it was an accident, but The Reestablishment locked her up for murder. No one knows why Juliette's touch is fatal. As long as she doesn't hurt anyone else, no one really cares. The world is too busy crumbling to pieces to pay attention to a 17-year-old girl. Diseases are destroying the population, food is hard to find, birds don't fly anymore, and the clouds are the wrong color.
The Reestablishment said their way was the only way to fix things, so they threw Juliette in a cell. Now so many people are dead that the survivors are whispering war – and The Reestablishment has changed its mind. Maybe Juliette is more than a tortured soul stuffed into a poisonous body. Maybe she's exactly what they need right now.
Juliette has to make a choice: Be a weapon. Or be a warrior.
---
Ratings:
Review: 
I may be one of the only few people who got into this book right from the beginning.
Honestly, I have read some pretty bad reviews of this book and I agree with a lot of things they say but I gotta admit that I literally flew through this book. One moment I'm at page 112 and the next I look at the page number and it's 164. I was hooked, absorbed, and I couldn't put it down. I didn't even read the book in school because I wanted to read it in peace and school is the last place on earth where I can read a book in peace. #nosyclassfellows
I read Tahereh Mafi's Furthermore last month and LOVED it that's why I picked this one up too. This book is not as good as Furthermore but it's really good nonetheless.  The writing annoyed many people but I was fine with it. I was fine with the repetitiveness because after some time I got used to it. But, the metaphors were really annoying. Like read this one,
"My jaw is dangling from my shoelace."
Juliette's character was okay-ish. The only purpose left in her life was to spend her whole life with Adam. I sympathized with her character a lot because of what she had been through and knew she was now desperate for someone or anyone but that seemed a little too much sometimes. She was too weak and whiny sometimes but I don't despise her for that. I mean, the girl lived her whole life being bullied by people who called her a monster including her parents and the other half in isolation so obviously she craved human connection. And I don't expect her to become a strong female lead in the blink of an eye. But, I wish she was more independent.
I honestly liked Warner's character more than Adam's. Adam's character was too predictable. Each one of his action seemed planned in advance and everything that he said or did was too convenient. That made me doubt his character a lot of times. Am I making sense? Probably not. But, you'll get it if you have read the book.
Warner, well, he's a ruthless character. Aaaaand I loved him. I know, I know, I'm super against the bad boy trope but he wasn't a bad boy, he was a freakin' villain. Villains are an exception, right? However, I think that his age – nineteen – was a bit too unreal for his character. I wish he was like 21 or 22 years old because he didn't talk like a 19 years old.
Let's talk about the romance. The book mainly revolves around Juliette and Adam's romance. But, I'm not a fan of their couple – which I think you already got by now – so yeah, I rolled my eyes and made that throw-up face everytime both of them said anything even remotely cheesy (which happened a lot by the way).
If you're a follower for a long time and have been reading my reviews then you might be wondering Why Zainab? You're a hater of the love triangle, cheesy dialogues, and bad boy trope. How can you love this book? Trust me, I ask myself this question every single day. It doesn't even make sense to me. BUT I can't help it but love this book and it's kind of like my guilty pleasure except that I don't even feel guilty about it.
Conclusion:
This is the kind of book/series that you'll either love or hate. In my case, I fell in love with it. I don't know about you. I'm gonna recommend it to you if you're a lover of X-men because this book has the "mutants" elements in it.
---
About the Author: 
She was born in a small city somewhere in Connecticut and currently resides in Santa Monica, California, where she drinks too much caffeine and finds the weather to be just a little too perfect for her taste.
When unable to find a book, she can be found reading candy wrappers, coupons, and old receipts.
---
Twitter | Instagram | Goodreads