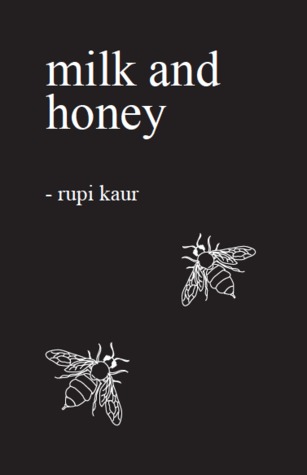 Title: milk and honey
Author: Rupi Kaur
Publication Date: November 4th, 2014
Format: ebook
Genres & Themes: Poetry, Violence, Abuse, Loss, Love, Feminism.
Blurb:
milk and honey is a collection of poetry and prose about survival. It is about the experience of violence, abuse, love, loss, and femininity. It is split into four chapters, and each chapter serves a different purpose, deals with a different pain, heals a different heartache. milk and honey takes readers through a journey of the most bitter moments in life and finds sweetness in them because there is sweetness everywhere if you are just willing to look.
---
Rating:
Review: 
I have read a lot of verses and prose from the book on Instagram. I'm not a huge fan of poetry and I have only ever read one poetry book. But then I saw this one particular prose on Instagram and it piqued my interest so I finally decided to read it.
A lot of people say that this book is "Tumblr like" because of the poetry with pictures, though I like the addition of picture with the poetry. It made the poetry more interesting and added a personal effect.
The writing is beautiful, real and doesn't bore you at all – like a lot of poetry does (poetry bores me). I couldn't put the book down and I finished it in no less than 24 hours.
At first, I was unsure how to rate this book. There are a lot of verses about violence, abuse, moving on, and feminism that I loved but then there are some verses with a lot of vulgarity. I could've ignored that if it weren't for the fact that these verses and prose were repeated after every other page. And they were too graphical and included pictures as well.
I'm giving this book 3/5 stars.
---
About the Author: 
Rupi Kaur is a writer and artist based in Toronto, Canada. With a focus in poetry, she released her first book of prose and poems in November 2014. Throughout her poetry, photography, illustrations, and creative direction she engages with themes of femininity, love, loss, trauma, and healing. When she is not writing or creating art, she is travelling internationally to perform her spoken word poetry, as well as hosting writing workshops. You can find more of her work at www.rupikaur.com
---
Twitter | Instagram | Goodreads