Top 5 Wednesday which is a meme created by a reader and Booktuber Lainey at gingerreadslainey. Also, you can check out the Goodreads page for the past and future topics.
This week's topic is: Favorite Spooky Settings
This week's topic is about the scary or eerie settings in books. I haven't read a lot of scary books so I'm going with some really weird and creepy settings or the places where I wouldn't want to live even in my worst nightmares.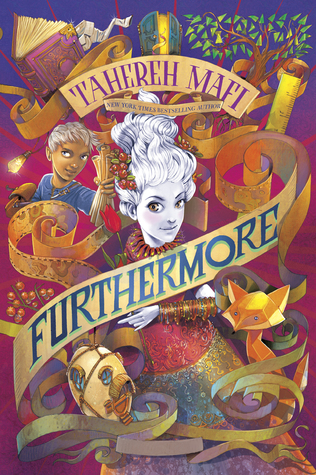 Alice sets out on a journey (with Oliver) to find her father who is in Furthermore; a place comprising of hundred villages. She has to go through at least 68 of them to reach him and each is creepier than the other. The village of Still and Left were the creepiest ones. In Still, you're supposed to be still and if you move, the "people" there will scream, wail, scratch their skin with nails and kill you. Yep, it's a middle-grade book.
This book is set decades after a nuclear war in the US and although it's set in the US and I don't live in the US, it's still creepy. People in Westfall have no choices of their own. They get married to a stranger at the young age of 16 and have kids immediately afterwards. There is no food, electricity, washing machines or even outside the fence that borders Westfall, you can't survive because of extreme cold, savages and wild beasts. Women can't do anything but brace the occupation of nurses or teachers which is not bad but there's no diversity! This place isn't so bad compared to many other horrible YA places but it's still not the most desirable one!
3. Labyrinth – Percy Jackson and the Battle of the Labyrinth by Rick Riordan
Labyrinth is under our earth and it's one of the most horrible places to be! It's confusing and maddening. No one knows where the end is or the monsters or dark magic lurking inside the maze. It changes every second and there's NO MAP!  Yup, you'll definitely go insane inside it.
A place where some creepy, no-face, soul-sucking, hooded figures suck the life and happiness out of you which is, in fact, their food and you become insane and live in a misery and grief for the rest of your life. Nope.
Morgan wakes up to find herself in a room with no windows or door and full of strangers and blood splattered everywhere and also a monster visiting them – the strangers – once in a while to enjoy a nice cup of tea (pun intended) and drag one of them with it. I don't think I'm ever going to enjoy this happy little place full of strangers and a monster.
Honourable Mention:
Any of R.L. Stine books
Nopity Nope Nope.
---
What are some of your favourite spooky settings?
---
Twitter | Instagram | Goodreads