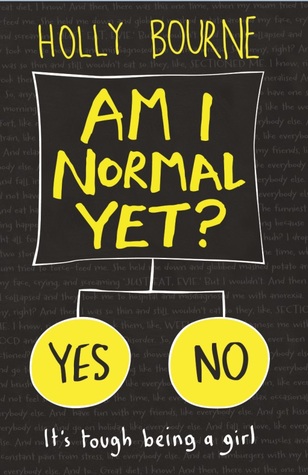 Title: Am I Normal Yet? (The Spinster Club #1)
Author: Holly Bourne
Publication Date: August 1st, 2015
Format: Paperback (ARC provided by the Publisher)
Genres & Themes: Young Adult, Contemporary, Feminism, Mental Health
Blurb:
All Evie wants is to be normal. She's almost off her meds and at a new college where no one knows her as the girl-who-went-crazy. She's even going to parties and making friends. There's only one thing left to tick off her list…
But relationships are messy – especially relationships with teenage guys. They can make any girl feel like they're going mad. And if Evie can't even tell her new friends Amber and Lottie the truth about herself, how will she cope when she falls in love?
Review: 
Thanks to Usborne for sending me the physical copy of this book in exchange for an honest review.
I LOVE this book!
This book is about Evie. Evie wants to be normal like everyone else. She's starting college where luckily no one knows about what happened to her in the past. Her normal list includes making friends, going to parties (both of which are going well) and starting a "healthy and normal" relationship. But relationships are hard and messy, and teenage boys are mostly jerks (no doubt), and her new friends still don't know her secrets. So, how's she going to deal with all of this?
To be honest, I wasn't much aware of OCD. I only knew minor things about it. But, this book really gave me an insight into the OCD affected person's mind. I feel like we are still not educated enough and are still not accepting mental disorder as a disease to be cured and understood. I like how the author has brought light onto the topic and how lightly people take it. And not only that but this book is also really educational and speaks about different topics too including feminism. I think we really need to have a whole chapter dedicated to the mental illnesses in our textbooks because people should  know about this and not the gibberish algebra stuff!
One of the things that I love about this book is that it's free of all the stupid and cliched stereotypes and focuses more on friendship and feminism. We don't have a lot of books that talk about friendships and feminism altogether. In most of the books, your best friend vanishes as soon as your love interest (the most handsome and most likely a dark and mysterious guy *rolls eyes*) enters the picture (which I hate so much *rolls eyes again*). But, that didn't happen in this book. Evie's friends (Lottie and Amber) stood by her through thick and thin.They're honestly friendship goals! They listen to each other, share advice and understand.
Holly Bourne's writing is honest and straightforward. She doesn't sugar-coat the truth but her book is full of sincerity and truthfulness that most of our YA books lack these days. I want to talk more about it but I don't wanna spoil anything accidentally.
I really REALLY recommend this book to everyone. However, the book contains inappropriate language so I wouldn't recommend it to you if you're really young.
Rating: 
About the Author: 
Holly Bourne writes YA novels and blogs about feminist issues. Her favourite things to complain loudly about are: the stigma of mental health, women's rights, and the under-appreciation of Keanu Reeves' acting ability.
Holly's first two books, Soulmates and The Manifesto on How to be Interesting, have been critically acclaimed and translated into six languages. The first book in the 'Normal' series, Am I Normal Yet?, has been chosen as a World Book Night book for 2016 and has inspired the formation of Spinster Clubs around the country.
Before becoming a full-time author, Holly was editor and relationship advisor for a charity website.
Buy it on Amazon | Barnes and Nobles | Book Depository 
---
 Twitter | Instagram | Goodreads