Title: Broken Sky (The Broken Trilogy #1)
Author:  L.A. Weatherly
Publication Date: March 1st, 2016
Format: Paperback (Sent by the Publisher)
Genres & Themes: Young-adult, sci-fi, dystopian, romance.
Blurb:
Welcome to a 'perfect' world.
Where war is illegal, where harmony rules.
And where your date of birth marks your destiny.
But nothing is perfect.
And in a world this broken, who can Amity trust?
From the bestselling author of the Angel trilogy comes Broken Sky – an exhilarating epic set in a daring and distorted echo of 1940s America and first in a new trilogy.
Buy the book on Amazon | Book Depository | Kobo 
Review:
Thanks to Usborne for sending me the physical copy of this book in exchange for an honest review. 
I didn't go into the book with high expectations because the plot doesn't give anything away which I think is unfair. But, I'll try to summarize it as good as I can;
Amity is a Peacefighter and a very skilled one. She lives in Western Seaboard and their world is free from wars because war is illegal, so all the conflicts between countries are solved through the Peacefighters which involves pilots, planes, and etc like air fighting. Their neighboring country is Central States and the President is John Gunnison who believes in Astronomy. "Believe" is a small word. Like he makes all of his decisions through it and he also believes in "Harmony" and wants the world to live in"Harmony" but it doesn't even matter what measures he has to take to make it happen. Now, our Amity also has a role in all of it, of course.
Are you confused now? Sorry, I'm worst at summarizing. xD
Amity is a proficient Peacefighter and Pilot. She isn't my "most favorite character" but she's definitely an interesting one. What I admire the most about her is that she stands for the fair, justice, and right which I think is a commendable quality.
The book is also written from the POV of Kay who's an astrologer for money and not because she believes in it. She's trying hard to impress John Gunnison for whatever reasons.
And then we also have Collie who was Amity's best friend before they drifted apart for four years for some mysterious reasons too. And now that he's back, they're in a relationship.
The prologue is what piqued my interest and intrigued me to read the book. At first, I was all confused and puzzled because I couldn't understand the world, the astronomy or the Peacefighters stuff but I half blame it all on myself since I was hung up on the last book I read. But, the world building was really confusing at the beginning of the book. It also confused me at some points afterward. And sometimes I felt like there were too many characters and I even forgot some of them so whenever any of them popped up, I was like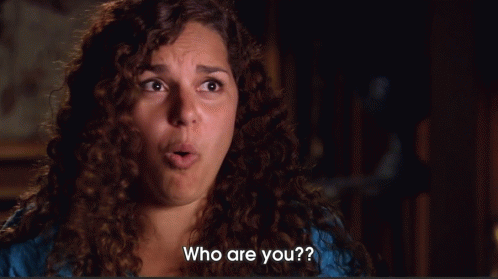 However, I must  praise the author for her impressive writing style. The book is very well-written. As I have already mentioned, the prologue intrigued me and I was really keen to know more. The book kept me on edge.  It was slow at the beginning but it picked up the pace later. The story anticipated me. I was hooked and I couldn't put the book down. I wasn't so emotionally invested in the book or even connected with the characters a lot but I enjoyed it, nonetheless.
It's been quite a while since I have read a Dystopian book and this one was not just different but unique which I admire the most about it. Most Dystopian books are almost same these days with similar storyline or characters. However, this one is really different. I love the elements of Astronomy in it though they were really confusing because I don't believe in Astronomy so I don't even know the basics of it. But that's not a big problem because almost everything is explained well. This book is also set in the 1940s but it's not like Historical Fiction. It's more like a Futuristic 1940s. People dresses the same way that people in the 1940s used to dress but it's not all same because it's a dystopian society.
So I have this really bad quality that I always try to predict the endings or even plot twist (because I'm insane) and I tried to do the same with it. But, no, the ending was unpredictable. I did not see that coming or even that way. And after that ending, I'm definitely picking up the second book.
Do I recommend it? 
Yes! I totally recommend this book to you especially if you're a fan of dystopia.
Rating:
---
About the Author: 
Lee Weatherly was born in 1967 and grew up in Little Rock, Arkansas, USA. She lives with her husband in Hampshire, England, where she writes, goes on walks, tries out new recipes and has a cat named Bernard.
L.A. Weatherly is the pseudonym for Lee Weatherly. You can follow her on Twitter at @LA_Weatherly
Buy the book on Amazon | Book Depository | Kobo 
---
Twitter | Instagram | Goodreads