Before I get to the Book Haul part, let me share the worst incident that happened to me while writing the post. So, I kind of messed up while writing the post (It was 2:00 am in the morning and I was sleep-writing it) The mess was so huge that I had to delete that one and make a new post but then I almost messed this one up as well. You know the kind of mess you make when you try to move a picture but the whole text and the whole universe shifts?? Because, yeah, that one. But, the good part is that everything okay now.
I bought/received 11 books in August which is pretty cool since I hadn't bought any book for more than a month. This book buying was like my treat/reward for being patient and controlling the temptation to buy books. Lots and lots of books.
The Books I Bought This Month are:
I'm so happy that I finally got the copy of Jane Eyre because I've been looking for this book everywhere! 
1. The Battle of the Labyrinth (Percy Jackson and the Olympians, #4) by Rick Riordan
2. The Last Olympian (Percy Jackson and the Olympians, #5)  by Rick Riordan
3. Jane Eyre  by Charlotte Brontë
4. Wuthering Heights  by Emily Brontë
5. The Adventures of Huckleberry Finn  by Mark Twain
---
Books I Received From Publishers:
*The books were sent to me by Impress Books and UsBorne books.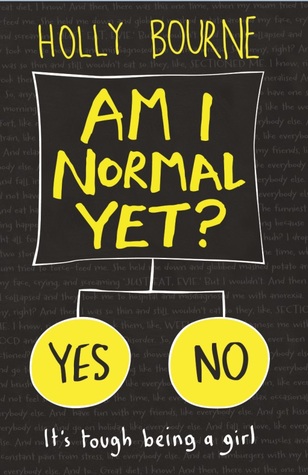 1. He's Gone  by Alex Clare
2. Am I Normal Yet? (The Spinster Club, #1)  by Holly Bourne
4. What's a Girl Gotta Do? (The Spinster Club, #3)  by Holly Bourne
3. How Hard Can Love Be? (The Spinster Club, #2)  by Holly Bourne
5. Broken Sky (The Broken Trilogy, #1)  by L.A. Weatherly
---
Book My Friend Gifted Me:
6. Bloody Valentine (Blue Bloods, #5.5)  by Melissa de la Cruz
This is actually the second time any "friend" gifted me a book which is great but sad at the same time. Like, all of them knows I LOVE books but no one buys me any *cries*
---
This was my August Book Haul.
How many books did you buy in August?
---