Today Pakistan mourns the death of Abdul Sattar Edhi who died an hour ago at the age of 92. This Legend is not unknown to a Pakistani but many of the people from foreign countries don't know who he is. So, today I'm going to tell you about the man who has done more for Pakistan than anyone could ever do. Because I think everyone deserves to know him.
He is the founder and head of the Edhi Foundation in Pakistan. The Edhi Foundation provides 24-hour emergency assistance across the nation of Pakistan and abroad. The Foundation provides, among many other services, a shelter for the destitute, free hospitals and medical care, drug rehabilitation services, and national and international relief efforts. Its main focuses are Emergency Services, Orphans, Handicapped Persons, Shelters, Education, Healthcare, International Community Centers, Blood & Drug Bank, air ambulance services, Marine And Coastal Services.
Edhi Foundation is not just confined to Pakistan. The organization also provides help to the people worldwide. Edhi Foundation has run relief operations in Africa, Middle East, Europe and even has aided the United States of America during the New Orleans hurricane.
Here are some of the most incredible and extraordinary facts about Abdul Sattar Edhi:
1. Abdul Sattar Edhi led a really simple life. 
For a man this great, it's astonishing that he lived in such a small house and lived such a simple life with his wife. Can you believe that the man in this picture owned the largest welfare organization in Pakistan and that he used to run one of the world's largest Ambulance services?
2. His wife is a social worker too. 
Abdul Sattar Edhi's wife – Bilquis Bano Edhi – is a professional nurse and a really active philanthropist of Pakistan. She has been nicknamed The Mother of Pakistan.  She heads the Bilquis Edhi Foundation. Her charity runs many services in Pakistan including a hospital and emergency service in Karachi.
3.  Edhi Foundation is currently the largest welfare organization in Pakistan.
He started Edhi Foundation with just 5,000 rupees ($48) and now it's the largest welfare organization in Pakistan.
Since its inception, the Edhi Foundation has rescued over 20,000 abandoned infants, rehabilitated over 50,000 orphans and has trained over 40,000 nurses. It also runs over three hundred and thirty welfare centers in rural and urban Pakistan which operate as food kitchens, rehabilitation homes, shelters for abandoned women and children and clinics for the mentally handicapped.
4. He was judged by his outer appearance. 
It's really hard to live in a world brainwashed by media. According to media, any person with a beard is a terrorist and a harm to the society. And Abdul Sattar Edhi was also judged for his beard and dress code. While traveling to foreign countries, he has been detained many times at several airports. He was detained for 16 hours at Toronto airport, interrogated for over 8 hours at JFK Airport, (New York,) arrested by Israeli troops while entering Lebanon, and denied entry to Gaza by the authorities. When asked about his usual detentions, Edhi believed that this disrespect is due to his dress and his beard.
5. His last words were: "Meray mulk k ghareebo ka khiyal rakhna" means take care of poor Pakistanis.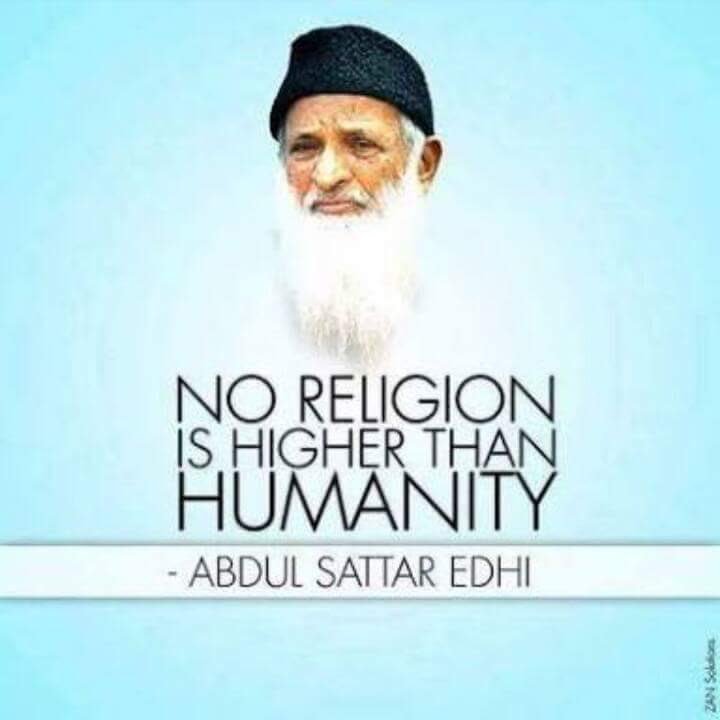 He has even donated his eyes when he's no more. I don't think we could ever find a more beautiful soul? He is a role model for everyone.
6. He was also nominated for Nobel Prize but never got it. 
He doesn't need a Nobel Prize to prove his worth. He led a great life and millions of people are mourning his dead, and crying and praying for him, and I don't think any prize in the world can compare to it.
---
May Allah rest his soul in peace. The world lost one of its greatest humanitarians today.