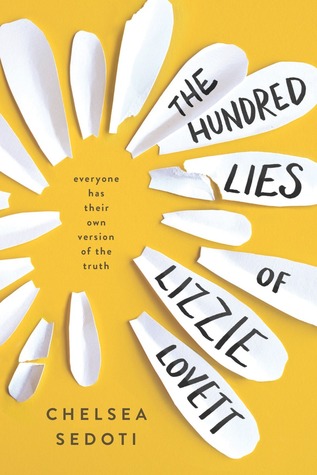 Title: The Hundred Lies of Lizzie Lovett
Author: Chelsea Sedoti
Publication Date:  January 3rd, 2017
Format: Ebook (ARC provided by the author via NetGalley)
Genres & Themes: Young Adult, Contemporary, Mystery, Fiction, Thriller.
Blurb:
A teenage misfit named Hawthorn Creely inserts herself in the investigation of missing person Lizzie Lovett, who disappeared mysteriously while camping with her boyfriend. Hawthorn doesn't mean to interfere, but she has a pretty crazy theory about what happened to Lizzie. In order to prove it, she decides to immerse herself in Lizzie's life. That includes taking her job… and her boyfriend. It's a huge risk — but it's just what Hawthorn needs to find her own place in the world.
Rating: 
Review: 
I received this E-ARC via Netgalley in exchange for an honest review.
This book is the epitome of perfection.
Let's start with the cover!
I'm a sucker for attractive and good-looking covers and one of the reasons why I was so excited to read this book and requested it was because of this cover. It's so pretty and bright. It looks so cheerful. Praise to the cover designer!
Second, the main character – Hawthorn -has a wild imagination. She's kinda weird and a little crazy. She has only one friend and that's because she hates socializing and interacting with human species.
I can relate to her and her weirdness. Let me tell you why:
I have a crazy imagination like her (not as crazy as hers)
I have only one best friend.
I hate socializing.
She gets a little mean and selfish sometimes but we've all been there. She can be annoying but I liked her anyway. I also enjoyed her POV a lot. It was filled with all these whimsical imaginations like the one where she thought that maybe aliens have abducted her best friend, and the girl (her best friend) in front of her is not really her best friend but a replacement.
And the writing  is flawless and unique. It honestly feels like the book is written by Hawthorn herself. I love reading all her insane thoughts and her mind drifting and roaming to all those exciting places. I felt connected to her. She feels like she's living in this boring and monotonous world where she doesn't belong and I feel you, girl, because same.
This book is going to release in January 2017 and I know for sure that it's worth the wait.
I totally recommend this book to every single person alive on this planet.
About the Author: 
Chelsea Sedoti fell in love with writing at a young age after discovering that making up stories was more fun than doing her school work (her teachers didn't always appreciate this.) In an effort to avoid getting a "real" job, Chelsea explored careers as a balloon twister, filmmaker, and paranormal investigator. Eventually, she realized that her true passion is writing about flawed teenagers who are also afraid of growing up. When she's not at the computer, Chelsea spends her time exploring abandoned buildings, eating junk food at roadside diners, and trying to befriend every animal in the world. She lives in Las Vegas, Nevada where she avoids casinos, but loves roaming the Mojave Desert.
Pre-order it on Amazon!
Twitter | Instagram | Goodreads