Hi, all!
Today I'm going to be talking about some of my anticipated book releases of April 2016. These are some of the books that I'm excited about because a) their synopsis sounds really interesting b) their covers. I have mentioned these books according to their publication date.
So, let's get started:
April 5th, 2016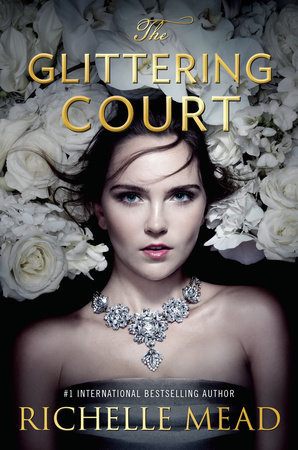 The Glittering Court (The Glittering Court #1)
by Richelle Mead
Publication Date: April 5th 2016
Blurb:
For a select group of girls, the Glittering Court offers a shot at a life they've only ever dreamed of, one of luxury, glamour, and leisure. To high-born Adelaide, whose wealthy family is forcing her into a loveless marriage, the Glittering Court represents something else: the chance to chart her own destiny, and adventure in an unspoiled, prosperous new land across the sea.
After a chance meeting with the dazzling Cedric Thorn, Adelaide poses as a servant to join the crop of impoverished girls he promises to transform into proper ladies. But her familiarity with upper class life comes with a price: she must hide her identity from her new friends, mysterious refugee Mira and fiery former laundress Tamsin, and most importantly, from Cedric himself—even though she's falling in love with him.
Everything begins to crumble when Cedric discovers Adelaide's ruse, and she catches the eye of a powerful young governor, who wants her for a wife. She didn't leave the gilded cage of her old life behind just to become someone else's property. But nothing is as daunting—or as wonderful—as the potent, forbidden attraction simmering between Adelaide and Cedric. One that, if acted on, would make them both outcasts in a wild, dangerous, uncharted world, and possibly lead them to their deaths.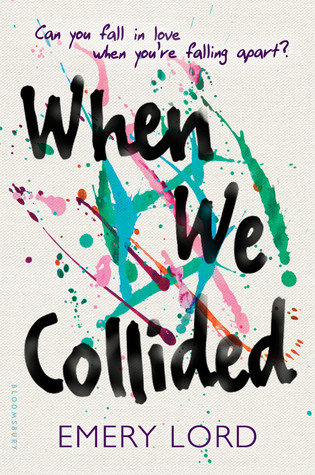 When We Collided
by Emery Lord
Publication Date: April 5th 2016
Blurb:
Meet Vivi and Jonah: A girl and a boy whose love has the power save or destroy them.
Vivi and Jonah couldn't be more different. Vivi craves anything joyful or beautiful that life can offer. Jonah has been burdened by responsibility for his family ever since his father died. As summer begins, Jonah resigns himself to another season of getting by. Then Vivi arrives, and suddenly life seems brighter and better. Jonah is the perfect project for Vivi, and things finally feel right for Jonah. Their love is the answer to everything. But soon Vivi's zest for life falters, as her adventurousness becomes true danger-seeking. Jonah tries to keep her safe, but there's something important Vivi hasn't told him.
Flawed (Flawed #1)
by Cecelia Ahern
Publication Date: April 5th 2016
Blurb:
Celestine North lives a perfect life. She's a model daughter and sister, she's well-liked by her classmates and teachers, and she's dating the impossibly charming Art Crevan.
But then Celestine encounters a situation where she makes an instinctive decision. She breaks a rule. And now faces life-changing repercussions.
She could be imprisoned. She could be branded. She could be found FLAWED.
In her breathtaking young adult debut, bestselling author Cecelia Ahern depicts a society where obedience is paramount and rebellion is punished. And where one young woman decides to take a stand that could cost her-everything.
April 8th, 2016
Tragedy Girl
by Christine Hurley Deriso 
Publication Date: April 8th, 2016
Blurb:
Of course Anne would be drawn to Blake. He's good looking, he's friendly, and they both bring sob stories to the table: her parents died in a car wreck, his girlfriend, Cara, drowned. Of course Blake would understand what she's gone through. And of course they can help each other work through the pain. It's like it was meant to be.
But just as Anne starts to feel she's finally found something good in all the tragedy, she can't ignore signs that something's off. Her friends rarely let her be alone with Blake. Even those closest to Blake seem uneasy around him. And then there are the rumors about the death of Cara, whose body was never recovered. Rumors that suggest Blake's pain is hiding something darker than Anne can even begin to comprehend . . .
April 12th, 2016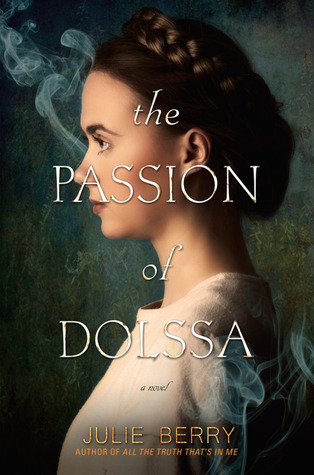 The Passion of Dolssa
by Julie Berry
Publication Date: April 12th 2016
Blurb: 
Buried deep within the archives of a convent in medieval France is an untold story of love, loss, and wonder and the two girls at the heart of it all.
Dolssa is an upper-crust city girl with a secret lover and an uncanny gift. Branded a heretic, she's on the run from the friar who condemned her mother to death by fire, and wants Dolssa executed, too.
Botille is a matchmaker and a tavern-keeper, struggling to keep herself and her sisters on the right side of the law in their seaside town of Bajas.
When their lives collide by a dark riverside, Botille rescues a dying Dolssa and conceals her in the tavern, where an unlikely friendship blooms. Aided by her sisters and Symo, her surly but loyal neighbor, Botille nurses Dolssa back to health and hides her from her pursuers. But all of Botille's tricks, tales, and cleverness can't protect them forever, and when the full wrath of the Church bears down upon Bajas, Dolssa's passion and Botille's good intentions could destroy the entire village.
From the author of the award-winning All the Truth That's in Me comes a spellbinding thriller that will keep you on the edge of your seat until the final page and make you wonder if miracles really are possible.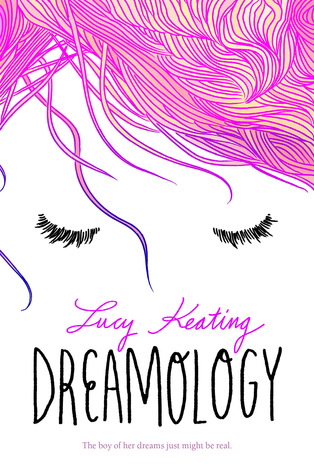 Dreamology
by Lucy Keating
Publication Date: April 12th 2016
Blurb: 
For as long as Alice can remember, she has dreamed of Max. Together they have traveled the world and fallen deliriously, hopelessly in love. Max is the boy of her dreams—and only her dreams. Because he doesn't exist.
But when Alice walks into class on her first day at a new school, there he is. It turns out, though, that Real Max is nothing like Dream Max, and getting to know each other in reality isn't as perfect as Alice always hoped.
When their dreams start to bleed dangerously into their waking hours, the pair realize that they might have to put an end to a lifetime of dreaming about each other. But when you fall in love in your dreams, can reality ever be enough?
April 18th 2016
The Blood of the Hydra (Elementals #2)
by Michelle Madow 
Publication Date: April 18th 2016
Blurb: 
Finding out that her new school had her in a special homeroom for witches was strange enough, but now Nicole must face the realization that she has the rare power to kill with just a touch. It's a secret she needs to keep not only from the Head Elders, but from the super-sexy witch Blake, who she's had undeniable chemistry with even before he broke up with his long-term girlfriend, the vengeful witch Danielle.
Now Nicole and the four others gifted with powers over the elements, including Blake and Danielle, must stop a series of monsters that they previously believed to be dead from rising once again and destroying the mortal world. Three magical items are needed, including the blood of the slain hydra – ingredients that they must journey to the dangerous, mystical islands in Greece to retrieve.
The monsters they face on this journey will be more threatening than anything they've encountered yet. But with the fate of the world on their shoulders, it's up to the Elementals to return home victorious. Will they find the ingredients they need? Can Nicole and her friends pull off this mission while the tension between her, Blake, and Danielle threatens to ruin everything? And how long will it be until Nicole is forced to use her ability to kill in front of everyone, revealing the true darkness of her powers?
April 19th 2016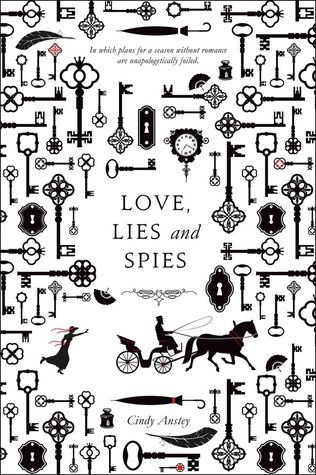 Love, Lies and Spies
by Cindy Anstey
Publication Date: April 19th 2016
Blurb: 
Juliana Telford is not your average nineteenth-century young lady. She's much more interested in researching ladybugs than marriage, fashionable dresses, or dances. So when her father sends her to London for a season, she's determined not to form any attachments. Instead, she plans to secretly publish their research.
Spencer Northam is not the average young gentleman of leisure he appears. He is actually a spy for the War Office, and is more focused on acing his first mission than meeting eligible ladies. Fortunately, Juliana feels the same, and they agree to pretend to fall for each other. Spencer can finally focus, until he is tasked with observing Juliana's traveling companions . . . and Juliana herself.
April 26th, 2016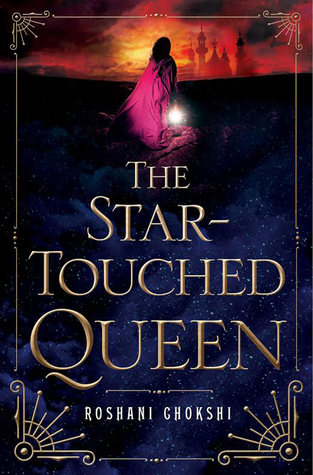 The Star-Touched Queen
by Roshani Chokshi
Publication Date: April 26th 2016
Blurb: 
Cursed with a horoscope that promises a marriage of Death and Destruction, sixteen-year-old Maya has only earned the scorn and fear of her father's kingdom. Content to follow more scholarly pursuits, her world is upheaved when her father, the Raja, arranges a wedding of political convenience to quell outside rebellions. But when her wedding takes a fatal turn, Maya becomes the queen of Akaran and wife of Amar. Yet neither roles are what she expected. As Akaran's queen, she finds her voice and power. As Amar's wife, she finds friendship and warmth.
But Akaran has its own secrets – thousands of locked doors, gardens of glass, and a tree that bears memories instead of fruit. Beneath Akaran's magic, Maya begins to suspect her life is in danger. When she ignores Amar's plea for patience, her discoveries put more than new love at risk – it threatens the balance of all realms, human and Otherworldly.
Now, Maya must confront a secret that spans reincarnated lives and fight her way through the dangerous underbelly of the Otherworld if she wants to protect the people she loves.
Inspired by Indian mythology.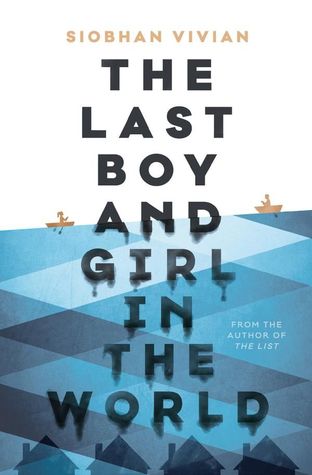 The Last Boy and Girl in the World
by Siobhan Vivian
Publication Date: April 26th 2016
Blurb: 
What if your town was sliding underwater and everyone was ordered to pack up and leave? How would you and your friends spend your last days together?
While the adults plan for the future, box up their possessions, and find new places to live, Keeley Hewitt and her friends decide to go out with a bang. There are parties in abandoned houses. Canoe races down Main Street. The goal is to make the most of every minute they still have together.
And for Keeley, that means taking one last shot at the boy she's loved forever.
There's a weird sort of bravery that comes from knowing there's nothing left to lose. You might do things you normally wouldn't. Or say things you shouldn't. The reward almost always outweighs the risk.
Almost.
It's the end of Aberdeen, but the beginning of Keeley's first love story. It just might not turn out the way she thought. Because it's not always clear what's worth fighting for and what you should let become a memory.
Heir to the Sky
by Amanda Sun
Publication Date: April 26th 2016
Blurb: 
As heir to a kingdom of floating continents, Kali has spent her life bound by limits—by her duties as a member of the royal family; by a forced betrothal to the son of a nobleman; and by the edge of the only world she's ever known—a small island hovering above a monster-ridden earth, long since uninhabited by humans. She is the Eternal Flame of Hope for what's left of mankind, the wick and the wax burning in service for her people, and for their revered Phoenix, whose magic keeps them aloft.
When Kali falls off the edge of her kingdom and miraculously survives, she is shocked to discover there are still humans on the earth. Determined to get home, Kali entrusts a rugged monster-hunter named Griffin to guide her across a world overrun by chimera, storm dragons, basilisks, and other terrifying beasts. But the more time she spends on earth, the more dark truths she begins to uncover about her home in the sky, and the more resolute she is to start burning for herself.
---
What is your most anticipated book release of April?