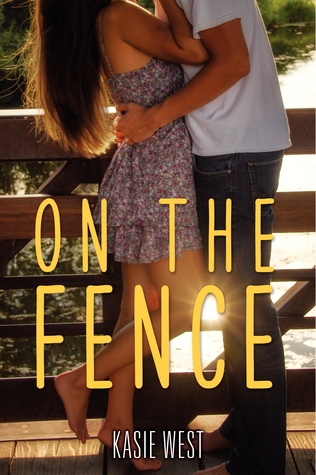 Title: On The Fence
Author: Kasie West
Publication Date:  July 1st, 2014
Format: Ebook
Genres & Themes: Young-adult, teen, contemporary, romance
Blurb: 
For sixteen-year-old Charlotte Reynolds, aka Charlie, being raised by a single dad and three older brothers has its perks. She can outrun, outscore, and outwit every boy she knows—including her longtime neighbor and honorary fourth brother, Braden. But when it comes to being a girl, Charlie doesn't know the first thing about anything. So when she starts working at the chichi boutique to pay off a speeding ticket, she finds herself in a strange new world of makeup, lacy skirts, and BeDazzlers. Even stranger, she's spending time with a boy who has never seen her tear it up in a pickup game.
To cope with the stress of faking her way through this new reality, Charlie seeks late-night refuge in her backyard, talking out her problems with Braden by the fence that separates them. But their Fence Chats can't solve Charlie's biggest problem: she's falling for Braden. Hard. She knows what it means to go for the win, but if spilling her secret means losing him for good, the stakes just got too high.
Rating: 
4/5 stars
Read on February 16, 2016
Review:
It was such a delightful read!
This was something I really needed because of all the exam stress and I made the right choice by picking this one to read.
This is the third book by Kasie West that I read. I read this book in a day (no guilt!). It was a short one and light to get through.
The writing was solid and kept me absorbed and the novel interesting. That's why it only took me a few hours to finish it. And this is exactly what I admire about Kasie West's novels. Although I'm not a fan of romantic novels much because they pretty much always bore me but her novels are really incredible and worth a read and they always keep me interested.
Charlie's character development was excellent. I hated her at the beginning because she was very cold, judgemental and insensitive and that's why her character annoyed me alot. But, I liked how her character changed and developed gradually.
I liked her relationship with her brothers (while I don't have any brother, I'm pretty sure that you don't get along too well with them) and I loved the cute Fence talks. I loved how Braden was always there to listen to her and helped her. The story was a cliche but I enjoyed it nonetheless.
Although I do admire Kasie West's writing and the novel, I was a bit unsatisfied at the end of the novel. I had some questions that were unanswered and that bothered me a little.
All in all, this book was an adorable, cute, bubbly and warm read and I'd recommend it for you if you're looking for something sweet and romantic.
About the author:
I write YA. I eat Junior Mints. Sometimes I go crazy and do both at the same time. My novels, published through Harper Teen are PIVOT POINT and its sequel SPLIT SECOND. And my contemporary novels: THE DISTANCE BETWEEN US, ON THE FENCE, and THE FILL-IN BOYFRIEND. My agent is the talented and funny Michelle Wolfson.
Goodreads | Amazon | Barnes and Nobles