Hey, everyone!
It's Tuesday again and so is the time of Top Ten Tuesday which is a meme hosted by The Broke and Bookish.
Today's topic is related to books and music but I didn't feel like doing that topic so I'm cheating. Don't say anything because we all cheat sometimes!
So, the topic that I'm choosing is Top Ten Bookish Things That I'd Love To Own because why not? It's not only the books that I want but everything related to it as well 😀
Let's get started!
10. Bookish tote bag – I like tote bags and I have seen so many of these lovely things but alas, I'm bankrupt and can't obtain any right now. I will, one day, hopefully! I especially love this one because of this smart giraffe. He can be a good reading companion.
9. I ❤ Books pendant – I know this one is really simple and decent and that's why I really like about this one; it's simple.
8. Bookshelf travelling mug – It's so cute! I wish I had it!
7. Reading is my SuperPower – Yup, another mug. But look at it. It's adorable and gorgeous. 6. A Literary Poster – I always want to hang something like a literary poster/sign in my room. It looks so pretty! Particularly this one! Look at it.
5. Bookish Glass Jar – Because they look spectacular.
4. Bookends – I love bookends but, sadly, I have none. But, look at this one! It looks really classy.
3. Literary Gloves – These are Pride and Prejudice gloves, I guess (?) and I haven't read it yet but I'm fine with it.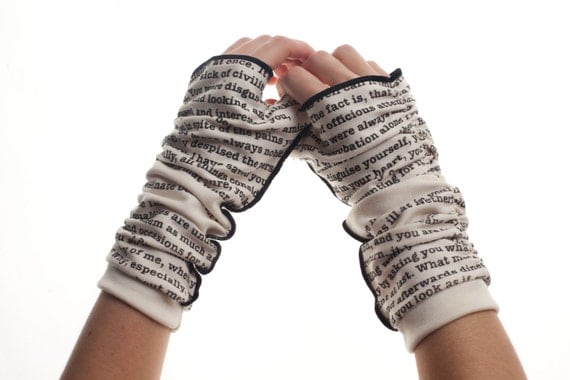 2. Harry Potter anything – Yup, anything and everything related to Harry Potter. You were not expecting me not to include Harry Potter in it, were you?
1. My Patronus is a Bookworm t-shirt – Another Potter-related thing that I want. But, seriously, it's awesome!
So, what is something bookish that you want?