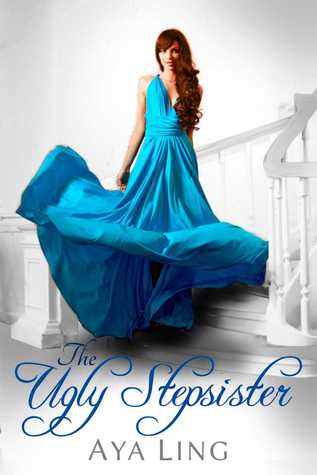 Title: The Ugly Stepsister
Author: Aya Ling
Publication Date: June 12th, 2015
Format: ebook
Genres & Themes: Fantasy, Young Adult, Romance, Retellings, Cinderella.
Blurb: 
When Kat accidentally rips apart an old picture book, she's magically transported into the world of Cinderella–as Katriona, one of the ugly stepsisters! Life turns upside down now that she's a highborn lady and must learn how to survive the social season, including how to get through the door in a huge metal hoop skirt. To get back, she'll have to complete the story, right to the end of happily ever after. But the odds are huge: the other stepsister is drop-dead gorgeous, the fairy godmother is nowhere to be found, and the prince, despite being insanely hot, openly dislikes balls. Can she ever return to the modern world
Ratings:
4.5/ 5 Stars
Read from February 04 to 05, 2016
Review:
I want the second book now!!
I've been wanting to read this book since it was released. I love fairytale retellings (Who doesn't?) and this has been on my ebook library for really long.
There are many characters in this book but it really doesn't annoy me. Actually, it's interesting. The characters were all somehow different from each other and that's pretty exciting.
Kat, the main, character, rips off the pages of her old Cinderella book and gets transported into the world of Cinderella. It turns out that she's not the Cinderella but the ugly step sister and her job is to make amends by convincing the Prince to hold a ball and finding the fairy godmother who's literally nowhere to be found. Kat can only return to the modern world if she makes amends and achieve happily every after otherwise she'll be stuck in the book forever.
I love Kat's character because I can relate to her. She's also a very passionate reader and like every single nerd in this world, she makes various book references.

Although this book is a Cinderella retelling, I feel like it has different fairytales involved and this book also reminds me of The Selection series. But, honestly, I like this one better. I  even think that Kat is better than America – I found America really annoying.
The writing is excellent and the era is described perfectly. I did mind some things but we can neglect them. Anyway, I strongly recommend everyone to read it because this book is absolutely wonderful!
About the Author:
Aya is from Taiwan, where she struggles daily to contain her obsession with mouthwatering and unhealthy foods. Often she will devour a good book instead. Her favorite books include martial arts romances, fairy tale retellings, high fantasy, cozy mysteries, and manga.
Do you like Fairytale-retellings?
What do you think about the review?